Hi all,
The holidays are fast approaching. You need to buy gifts for family and friends, decorate, and pick out the perfect gift for your sexy significant other and/or your favourite gorgeous sex worker(s).
Now, I'm gonna' be straight up with you, Working Girls like to be treated to things they can use for themselves just like anybody else. And most of us know these ladies a little … But probably not enough to pick out a personal gift for them … Unless they tell us what they want.
My best recommendation is to go with an extra generous tip next time you visit with them or buy them a thoughtful gift card. That way they can get what they want.
But, like anyone, a fun sex toy might be appreciated by them as well.
Or, you could be reading this entry, not because you're shopping for a favourite sex worker, but maybe for a special someone who you're looking to spice things up with in the bedroom. You've come to the right place.
I know most of you are pretty well versed in the realm of giving pleasure to a woman with the assistance of a toy. This entry might not be entirely for you – but you can look through it for the hot GIFs and maybe some naughty gift ideas if you'd like.
This week's blog entry is more geared towards those of you who may know a couple basics … Or may not know anything at all about women's sex toys. But you're in the market to up your game in the bedroom / incall and you're looking for a nudge in the right direction.
So, if you're looking to liven things up in the sack with a certain lady, perhaps give a naughty gift to your favourite sex worker, or just keep something fun in a drawer to impress a future one night stand, this is the entry point for you…
Dildos
Everyone pretty much knows what a dildo is. But there are variations. Most of the time they're made from softer malleable PVC or silicon. But some are made of hard plastic or even ornate glass – which go well in the freezer for a stimulating chilly masturbation session.
The texture can be smooth for those who like more of a slick sliding sensation or ridged … often vainy … to resemble a real penis. These are most often the style of choice for a good rub.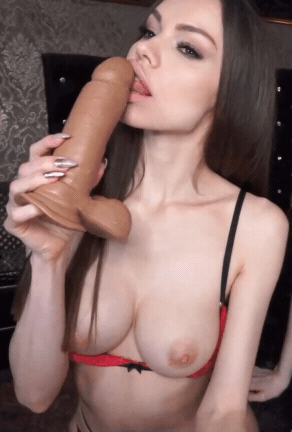 Also, size is a matter of preference … But most women prefer the average sized ones which are similar in length and girth to a relatively well endowed guy. Do not think you need the massive five inch wide torpedo sized dildo … That's for shock value and actually using it would be as sexually erotic as childbirth.
Some dildos are two-ended … those are usually for two women to enjoy together – one on each side. Probably not an ideal gift unless you're a woman giving it to another woman. Or you're giving it to your significant other along with a sexy escort to watch them enjoy each other. (Who needs sugarplums this season when you've got THAT image dancing through your head.)
As for colour, if it's a gift, you can go with a fun bright colour like pink or purple. Or, you can go with a flesh toned one – but, if you're getting your significant other a flesh toned one, get her one that's the colour of YOUR flesh or she'll think you're into cuckolding … Unless that IS what you're looking to convey to her.
Dildos are sexy gifts which let the lady know you've got sex on the mind and they're at the centre of it all. You can both use it together or she can just use it to pleasure herself.
Hands Free Dildos
This is another variation of the dildo but it deserved a category all its own. Some of these are designed so that she can prop it errect on the floor or her mattress and then bounce on top of it cowgirl style.
Another form is with a suction cup at the base of it. If she loves masturbating in the shower, she can secure it to the shower wall at the appropriate height and back onto it for a slippery wet session that simulates doggy style. And who doesn't love doggy style in the shower?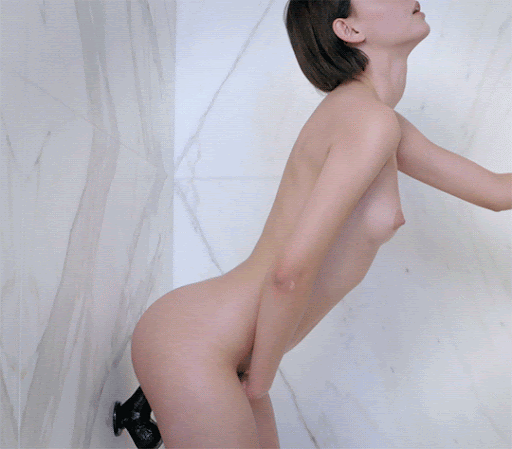 It's a thoughtful gift which is primarily designed for solo use. It shows that you're thinking solely of her pleasure … Which she'll appreciate … often. Even sex workers will appreciate one of these as it makes for some amazing content on their OnlyFans page.
Strap-Ons
These are dildos that she can strap on herself and wear like an erect penis. She can use it to fuck other women or for pegging.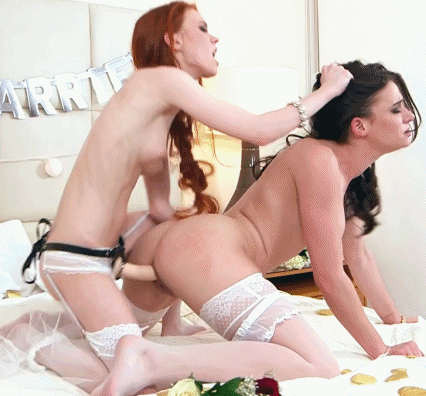 Pegging is when a woman wears a strap-on to fuck a guy anally. If you give this as a gift to a woman, that's what it's letting her know you're interested in … Unless of course it's accompanied by another woman you'd like to watch her fuck with it. Now, that's a happy holiday!
Vibrators
Another variation on the dildo is the vibrator. Often, a vibrator is just a dildo that has a vibrating mechanism inside it. It usually has adjustments for speed so the horny user can start off mild and increase the intensity as she becomes more and more aroused. Sometimes they will also have pulse patterns to simulate the thrusting of a guy during sex. Hot.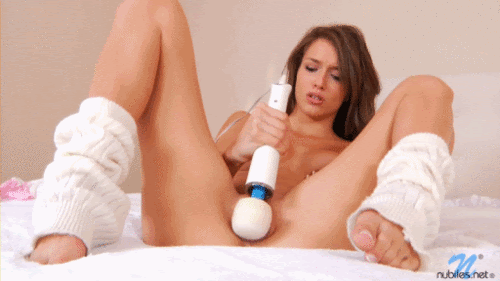 Other models are simply shaped like an egg and meant to be held against the clit while her fingers stimulate the rest of her pussy. Sounds fun just thinking about it.
Another variation is a combination of the two. There is the dildo aspect for penetration and internal vibration as well as a second "prong" which gently hums against the clitoris stimulating it as well. These are the Cadillac of vibrators!
Vibrators are definitely a step up from your standard dildo and an excellent gift for any dirty girl on your list. Using it solo or together, she's gonna appreciate the gift of a good hard orgasm.
Clit Suckers
These miracle devices resemble a large feminenely coloured wireless computer mouse. But where a mouse would have it's motion sensor, these little beauties have a small divot which rests on her clit and uses air pressure to provide stimulation.
Many women swear by these little bad boys and giving your sexy lady one for the holidays will make you very popular indeed.
Remote Control Vibrators
Another great toy allows you to control the action. (Or she can if you're not around.) What this is, is a small vibrating egg that she discretely inserts inside herself before getting dressed.
It also comes with a remote control. So, at any point while you're at home or out and about, you can turn it on sending pulses of pleasure up through her loins. You control the intensity and pulse pattern. The fun is seeing how she reacts while you have compete control of her pleasure … especially in public.
This is more of a gift for a special someone or an escort you like to take out on dinner dates…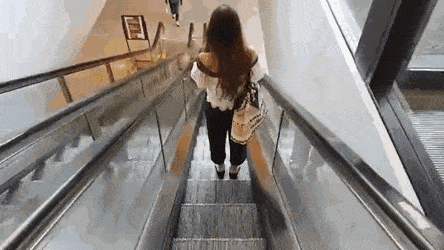 They also have ones which are controlled over the internet. These allow the woman to grant access to control it through an app. Then the guy can control it from anywhere in the world. These work best with a webcam so you can see her reaction to what you're doing.
These are great for webcam girls or long distance relationships. There are many videos online of women squirting everywhere with these in them.
Anal Toys
Some women also love to have their asshole stimulated! There are many toys like anal beads and anal stimulators that, along with a liberal serving of lube, simulate anal sex … Or they can get her ass ready for some naughty Greek fun.
Just be sure she likes anal before you surprise her with any of this stuff. You don't want Christmas morning to include the phrase "you are not putting that in there!"
Butt Plugs
These are another form of anal stimulation which many women (and men) enjoy. They're simply a short dildo shaped like a rounded 3D spade with a widened end to prevent it from getting lost up there and often a ring on one end to allow it to be easily removed. Sometimes they're decorated at the end with a simulated diamond … Or even an animal tail. Often times, women will keep them in during sex to simulate double penetration.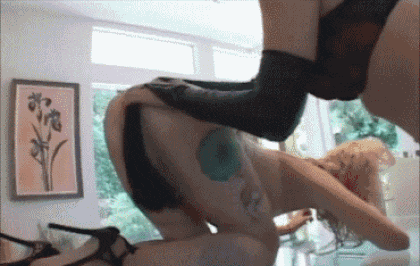 These are for the dirty girl in your life who LOVES anal!
Nipple Stimulators
Some of these are rubber and stimulate the nipples through suction … Making them more sensitive to your attention after using them. And some of them are plastic or metal and clamp on applying a mild amount of pain for those who are into pain play.
Either way shows her that you love her gorgeous breasts and want to show them a good time.
Sybian
This is the ultimate sex toy. Period. It ain't cheap … But it is worth every penny.
It's like vibrator mounted on top of a base which is about the size of a man's waist. She lowers herself into the fallic part of the Sybian and gets ready for the ride of a lifetime.
It has various settings for pulse and intensity which she can control with a remote … Or someone else can. And the sensation it provides is second to none.
Don't believe me? Check out any Sybian video online. The ladies riding them are overwhelmed with ecstasy. Their screams, tears and writhing bodies present a pretty compelling case.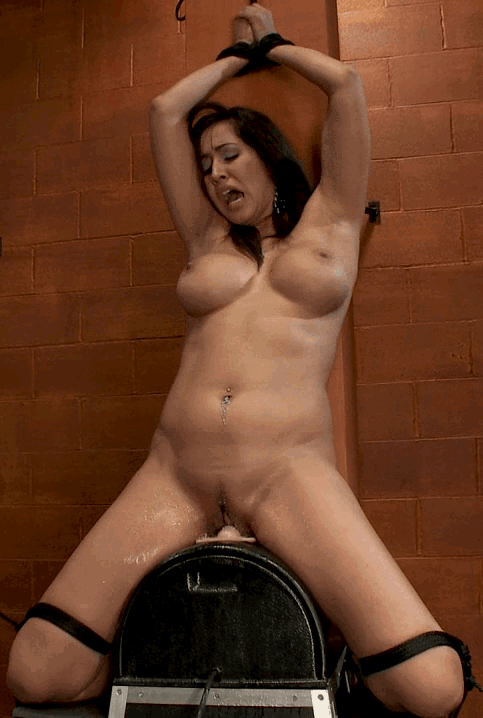 So, if you're looking to overwhelm someone with ecstasy, the Sybian is the way to go. It'll show her that you love her being intensely aroused … And that you're willing to spend a sizeable chunk of change to do it well
So remember: erotic gifts for the holidays let her know just how sexy you think she is and they can set the tone for an upcoming New Year of incredible fucking. Add it to other stuff which she can use for herself like gift cards or lingerie (oh, wait, that's for you again) and she will think the world of you.
Happy shopping, perverts! 😉
Until next time,
–D at @Workinggirlssix